Deck Construction
Decks can transform the exterior of your home into an extension of your interior living space. With our lengthy warm weather season in the Baltimore area, decks become an integral part of the home. They often become the primary entertaining and relaxation space of your house for a large part of the year.
We have extensive experience in the varied styles, materials, and construction aspects of deck building. From high end Ipe decks to synthetics and ACQ, we have the knowledge help guide you in the right direction.
You can view our gallery of varied styles of decks here:
Ipe Deck with Bluestone Patio
With this project, we transformed a plain, empty backyard into a multi-tiered outdoor living space. We added two Ipe decks, a multi leveled bluestone patio and field stone retaining walls with bluestone caps/ seats. To tie all of this in with the house, we also veneered the foundation with matching field stone and covered the basement steps with both types of stone as well.
First, we pour a slab and block the walls. Notice the 2 tiers of patio that follows the natural grade of the yard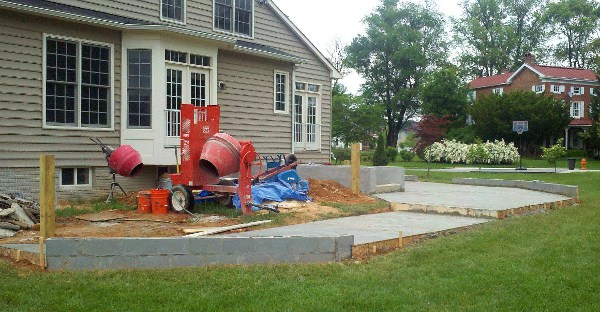 Framing the skeleton of the larger main deck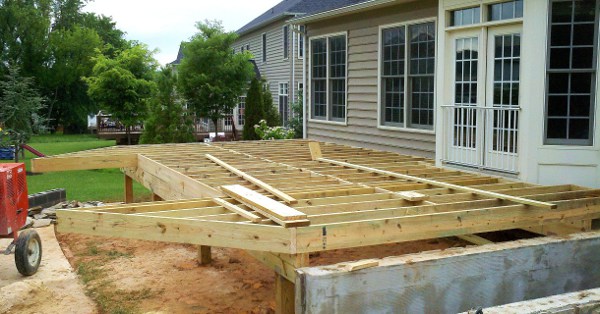 Frame for the smaller entrance deck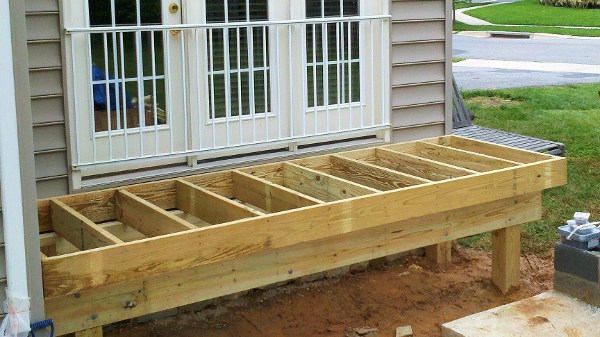 Trimming with Ipe, stone, and metal

New exterior living and entertainment space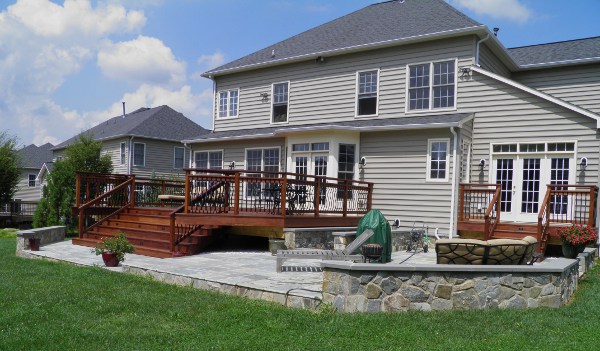 Larger main deck and stair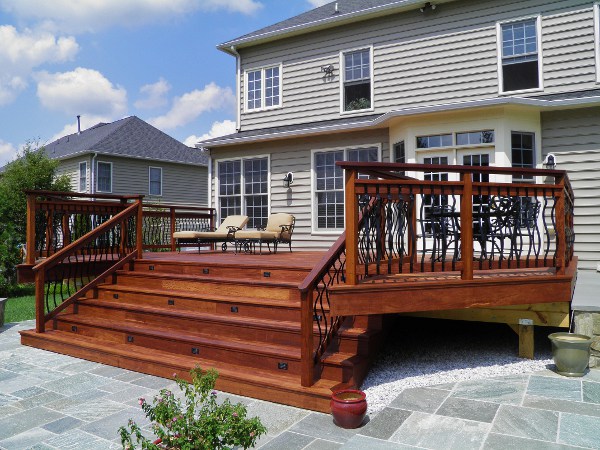 Secondary deck and stair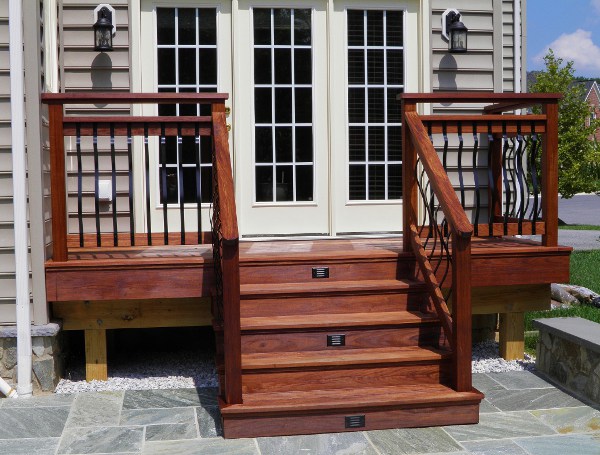 Field stone seat-walls with bluestone caps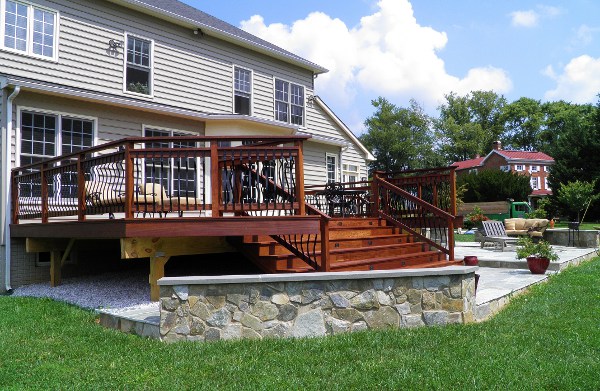 Re-dressed basement stairs and foundation walls to match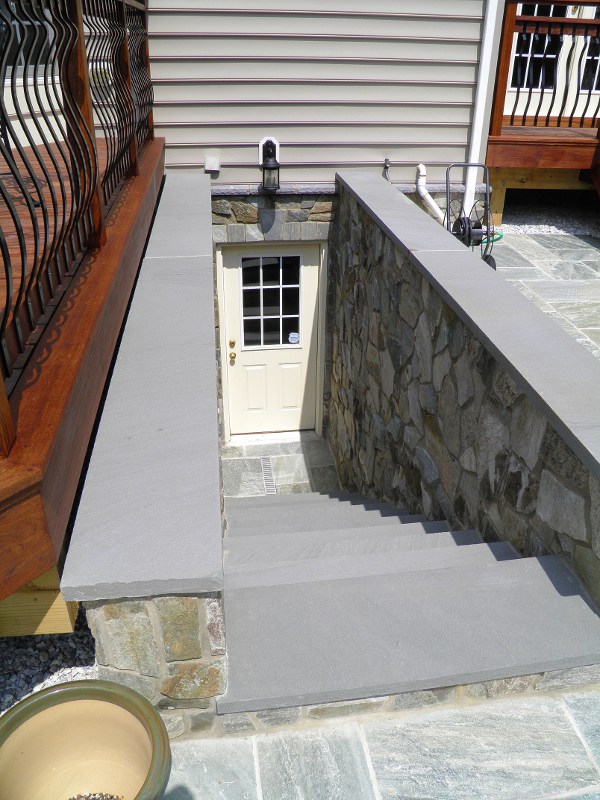 Notice the riser lights for night-time ambience and safety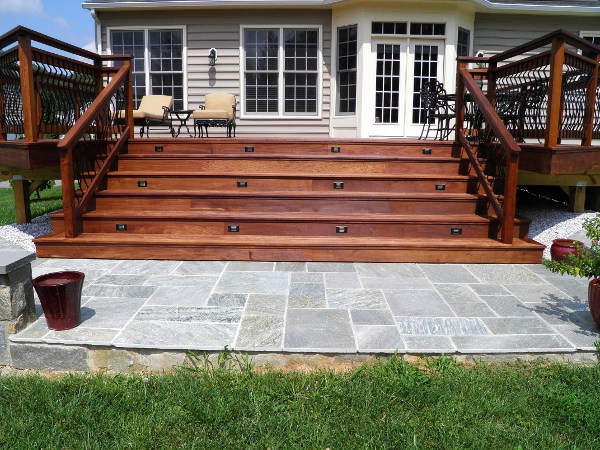 Spacious main deck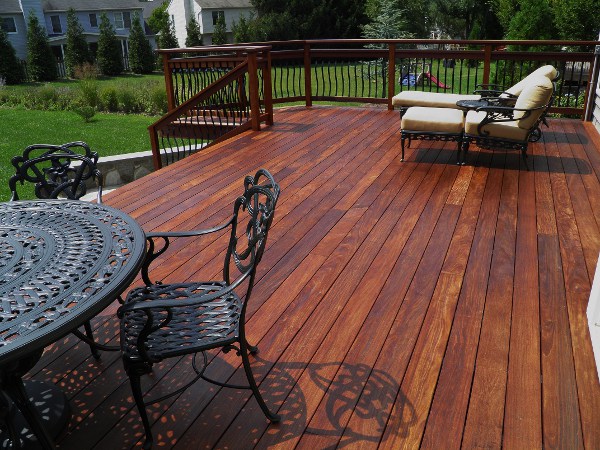 Railing detail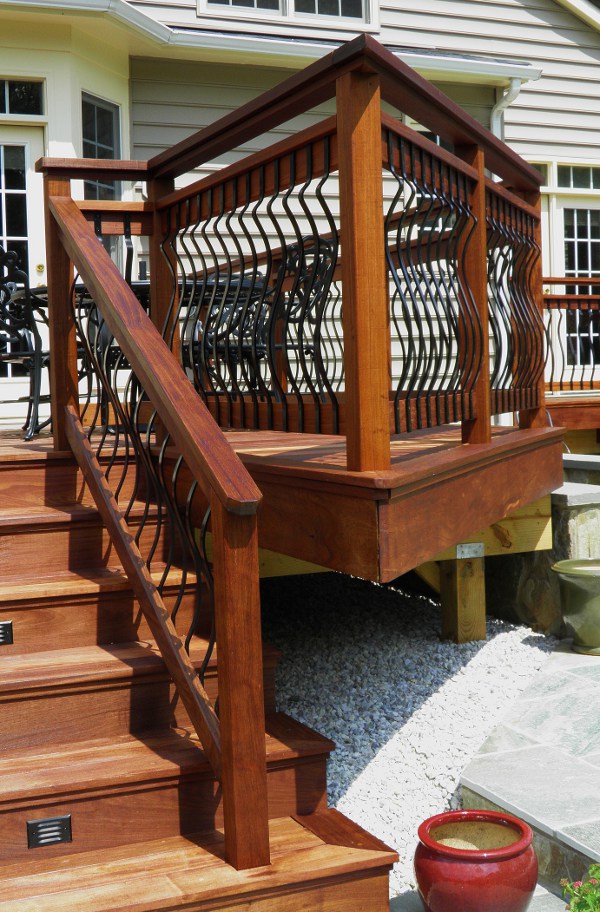 Large Ipe Deck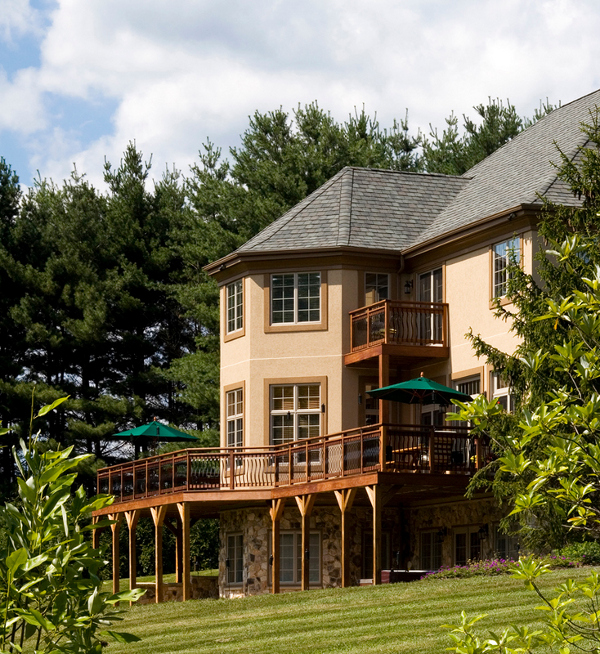 Metal Decorative balusters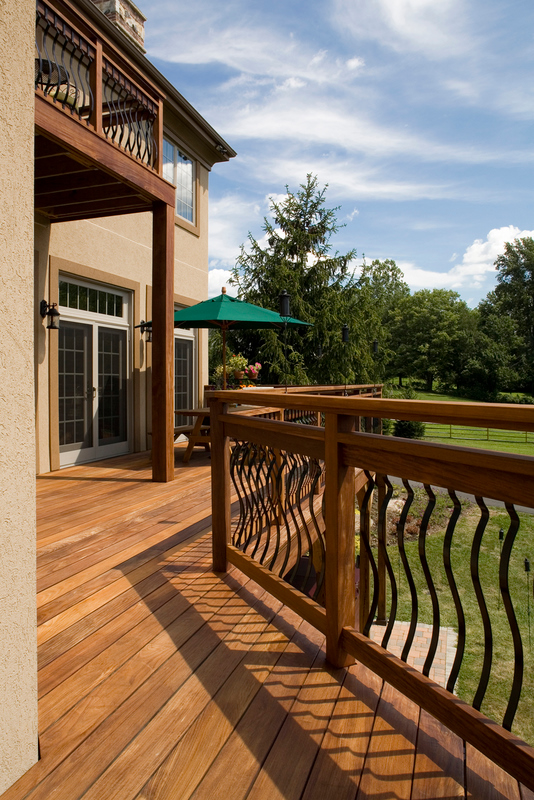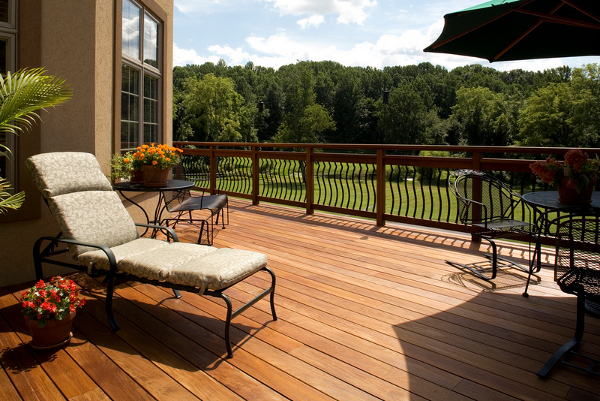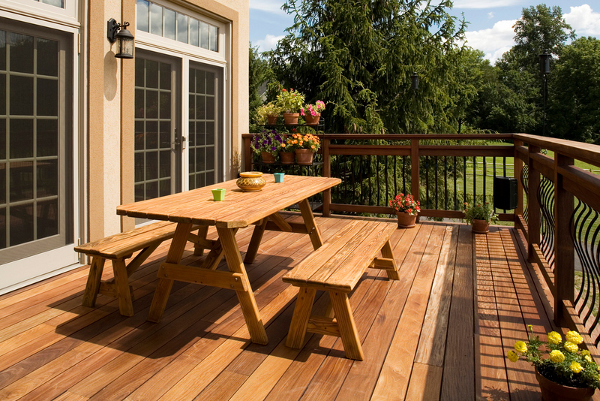 Detail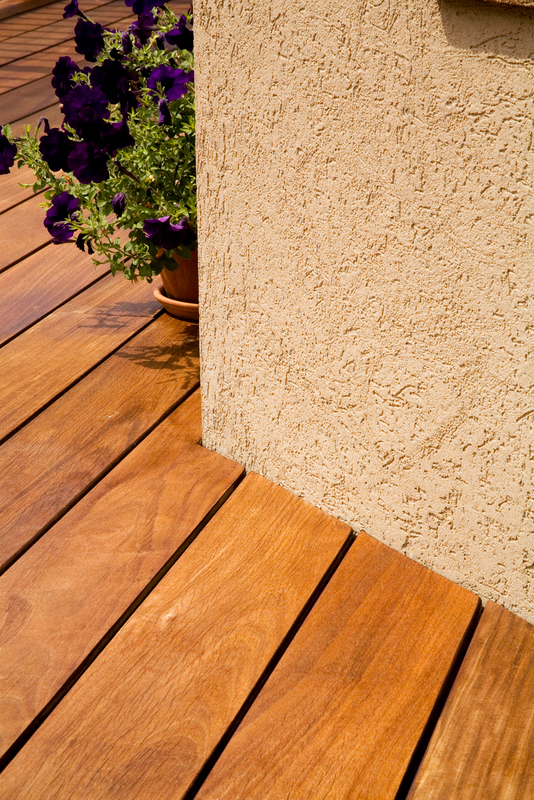 2 Tier Roof deck with Addition
ACQ construction with metal rails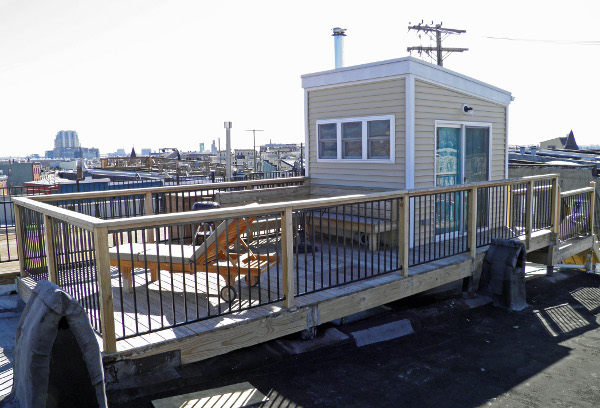 Built-in bench seat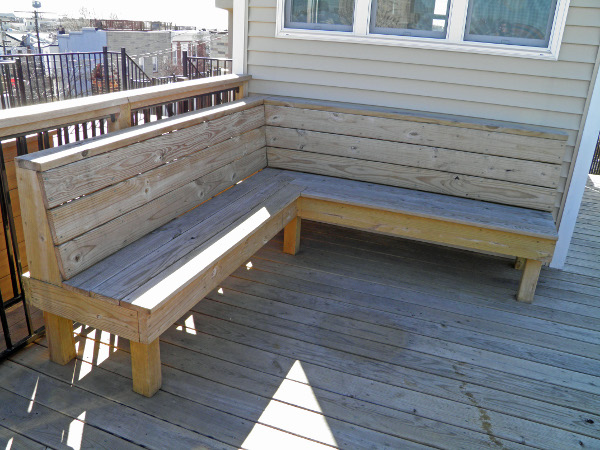 Plexi-glass panel to allow light into existing skylight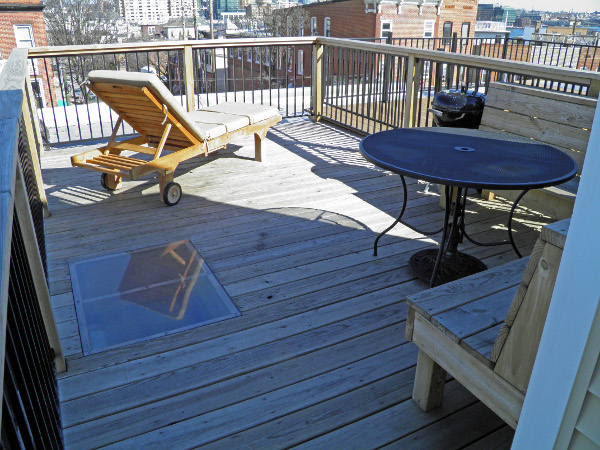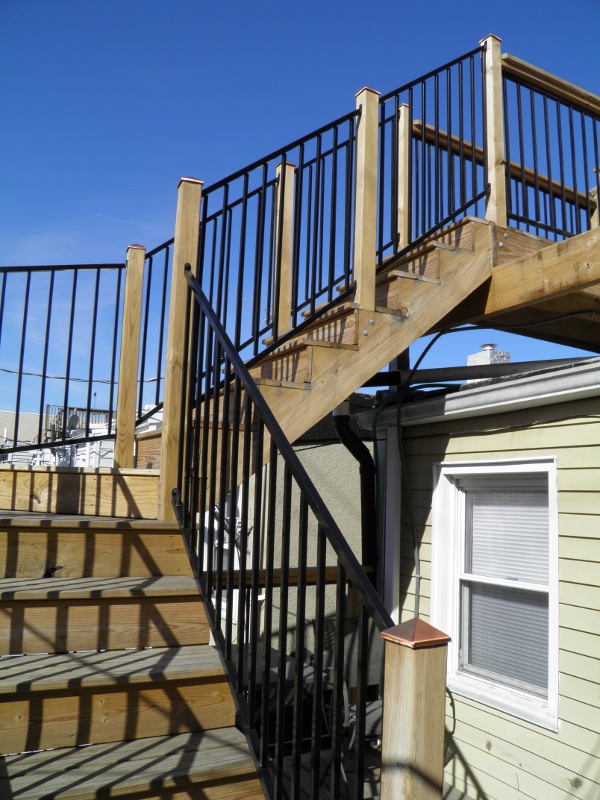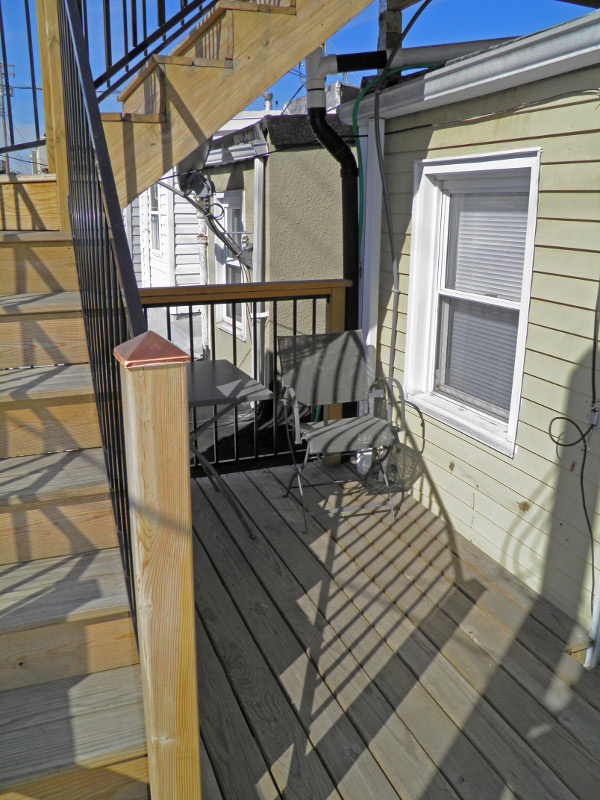 Rear view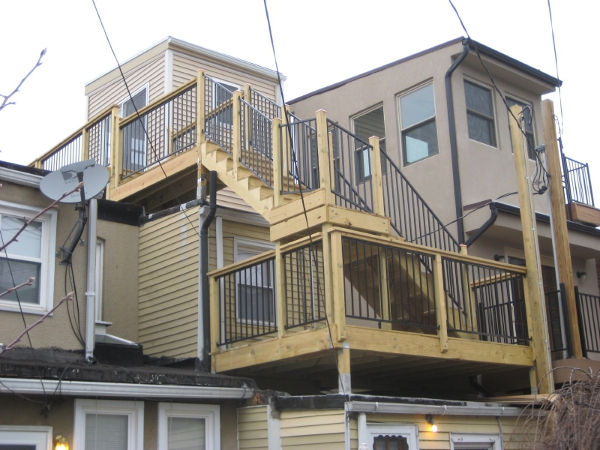 Synthetic Deck with Pergola
Wood grain synthetic decking, with matching storage chests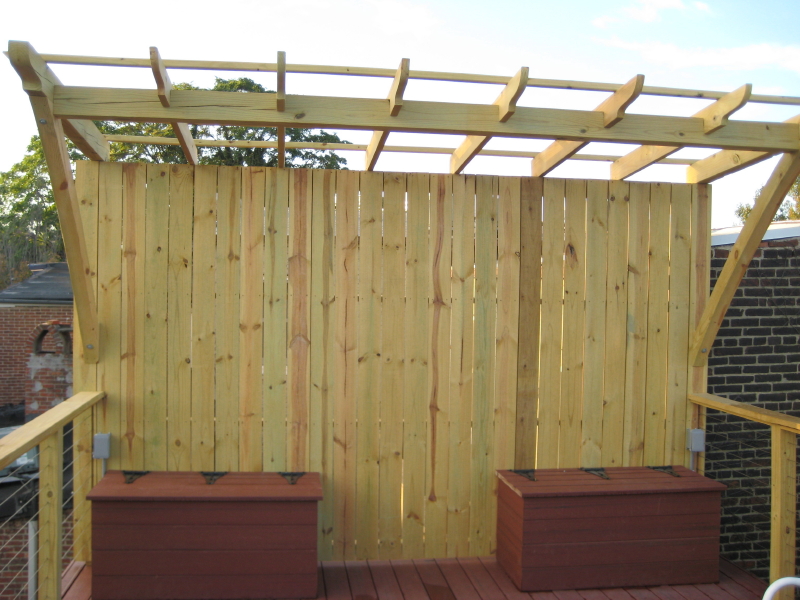 Detail of ACQ pergola and privacy fence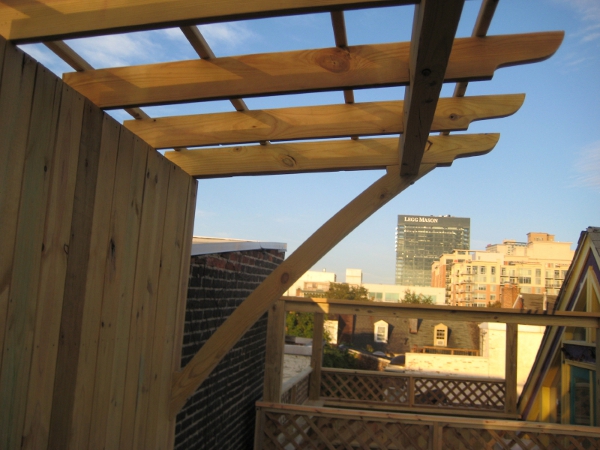 Rear 2-tier Deck
Privacy fence and gate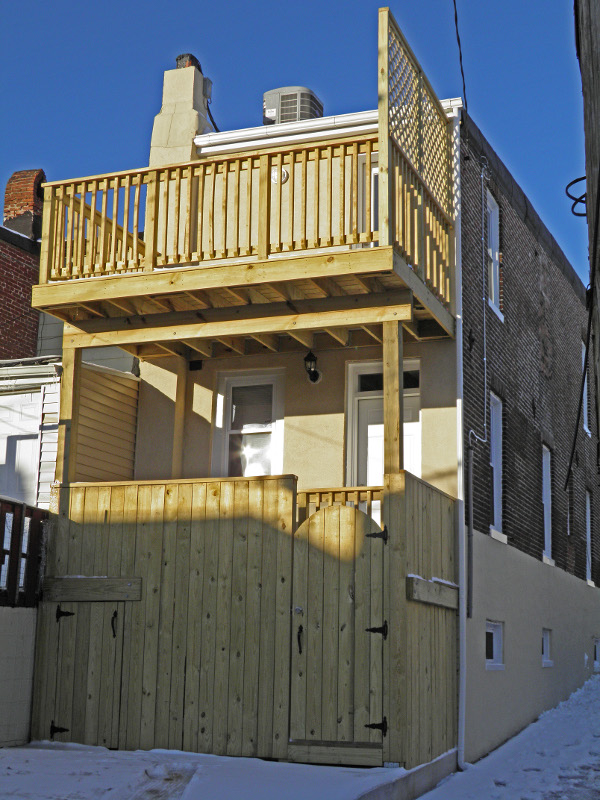 Ipe Entrance Deck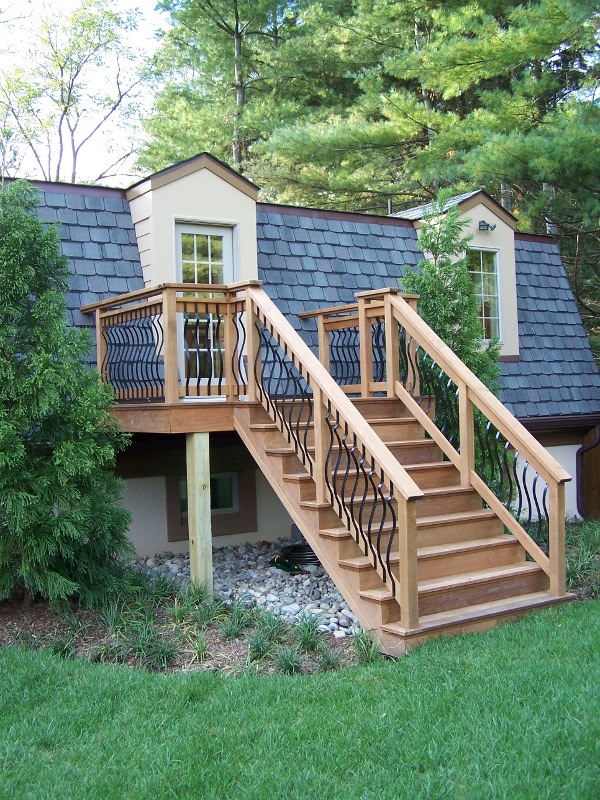 Ipe Deck Panel
With this rooftop deck we utilized an ipe deck panel. These 2'x2' panels click together to create a floating floor type system that cover the roofing membrane. We cut and shape the panels to conform to the size and contour of your deck. This is a great way to quickly beautify a flat roof area and convert it into a spectacular outdoor living space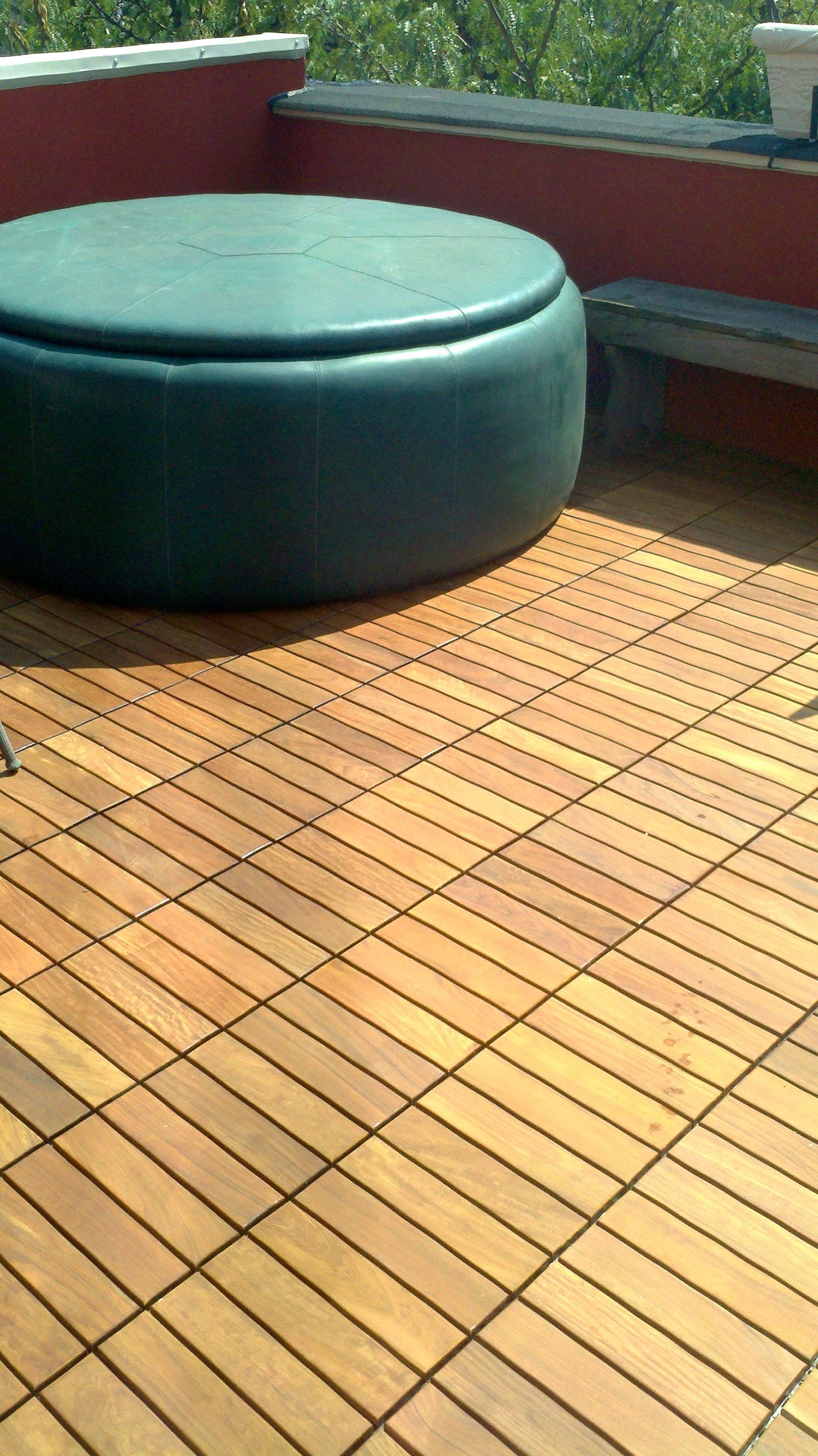 Detail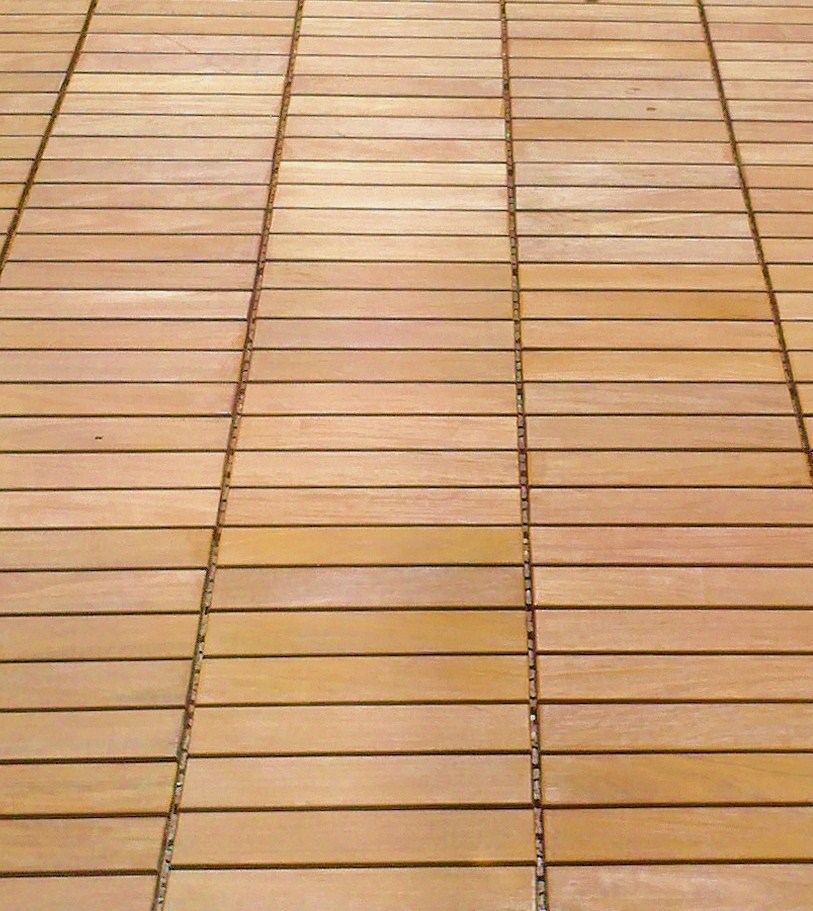 Cantilever deck
Cantilever deck with synthetic decking and metal and glass railing system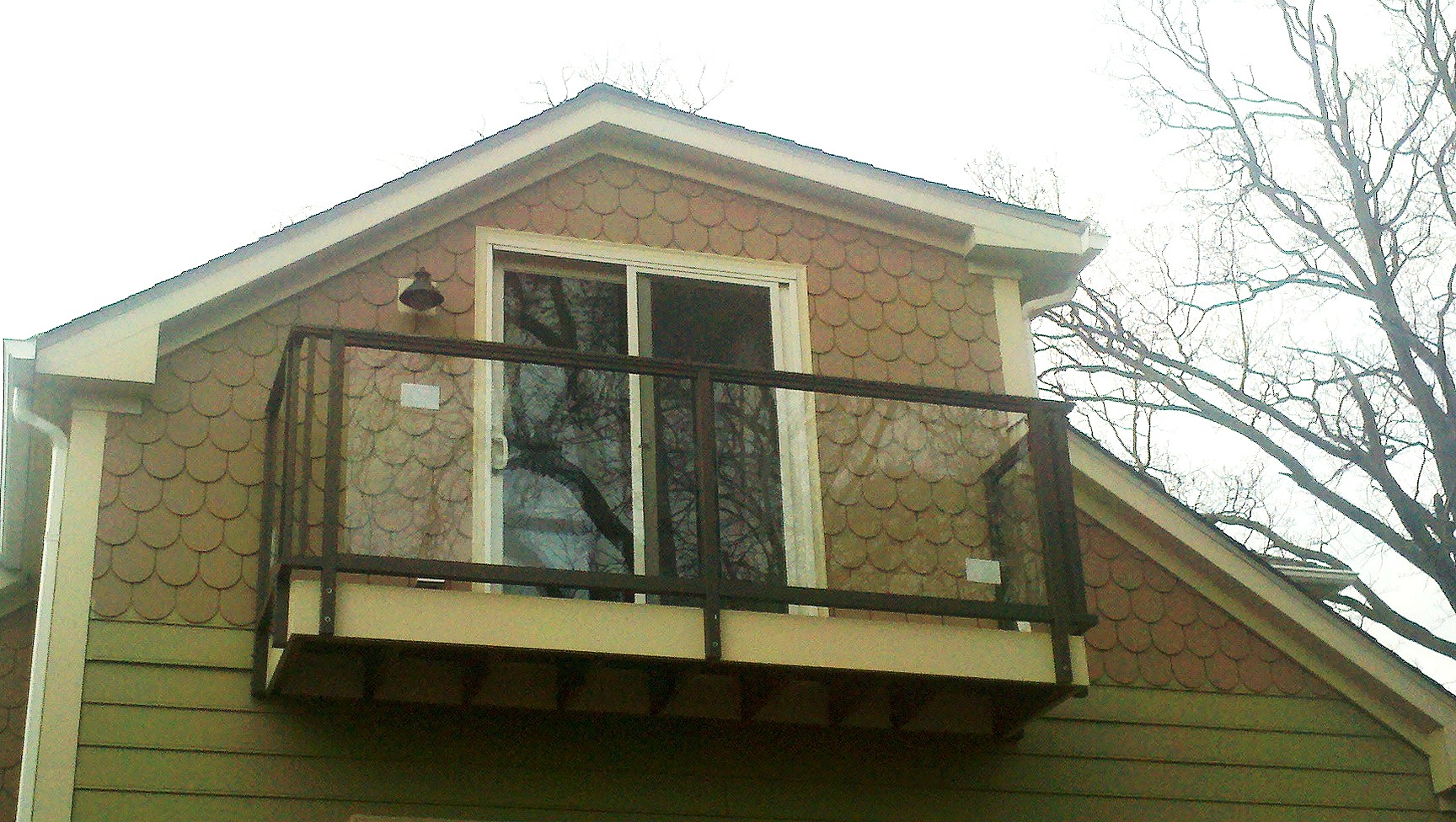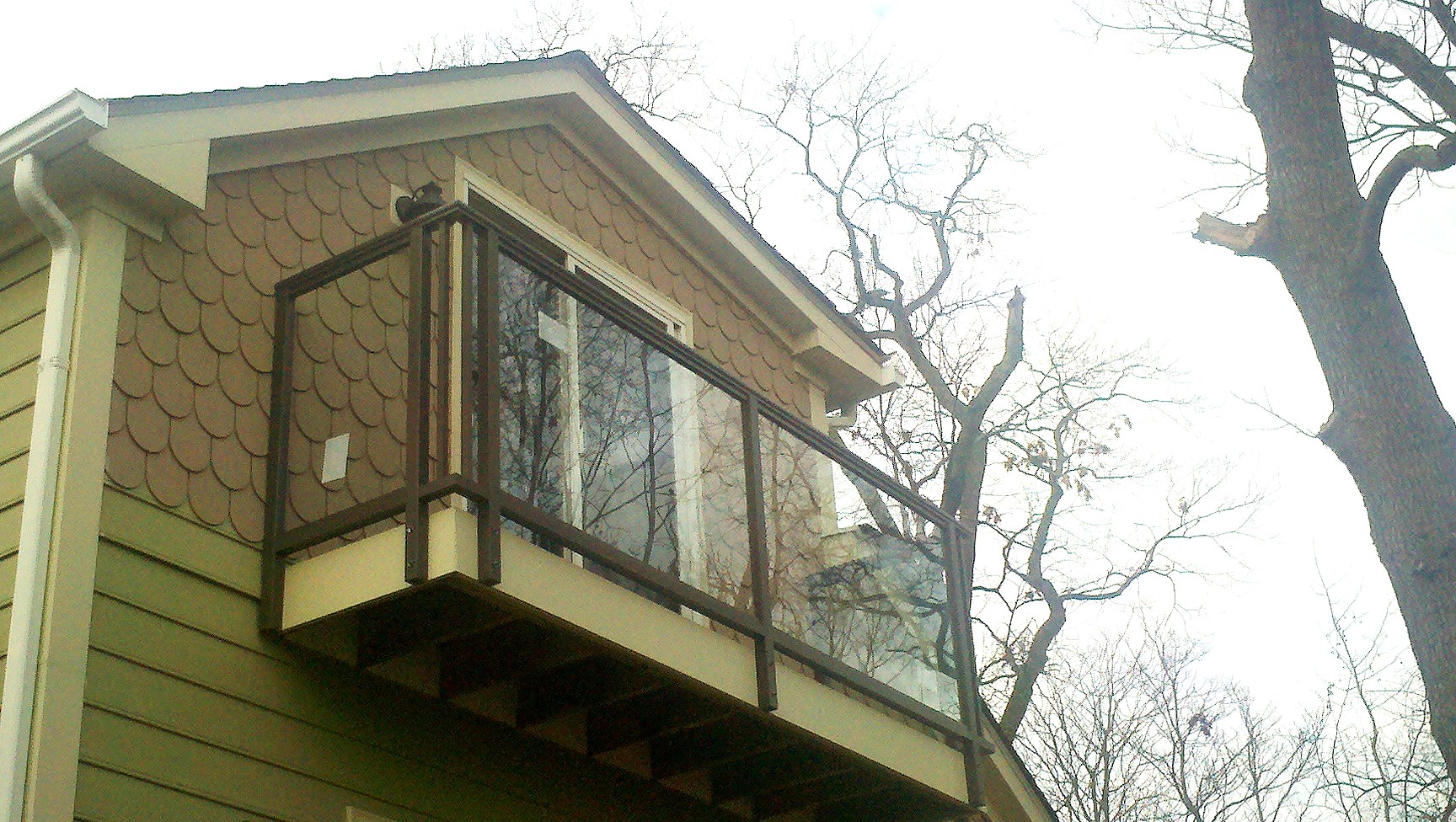 Butcher's Hill Rooftop Trex Deck
This deck is accessed from a rear 3rd story roof deck, that has stairs leading to the main roof. Trex is a synthetic decking product that is maintenance free and lasts forever.